A great story about trust
2019-11-05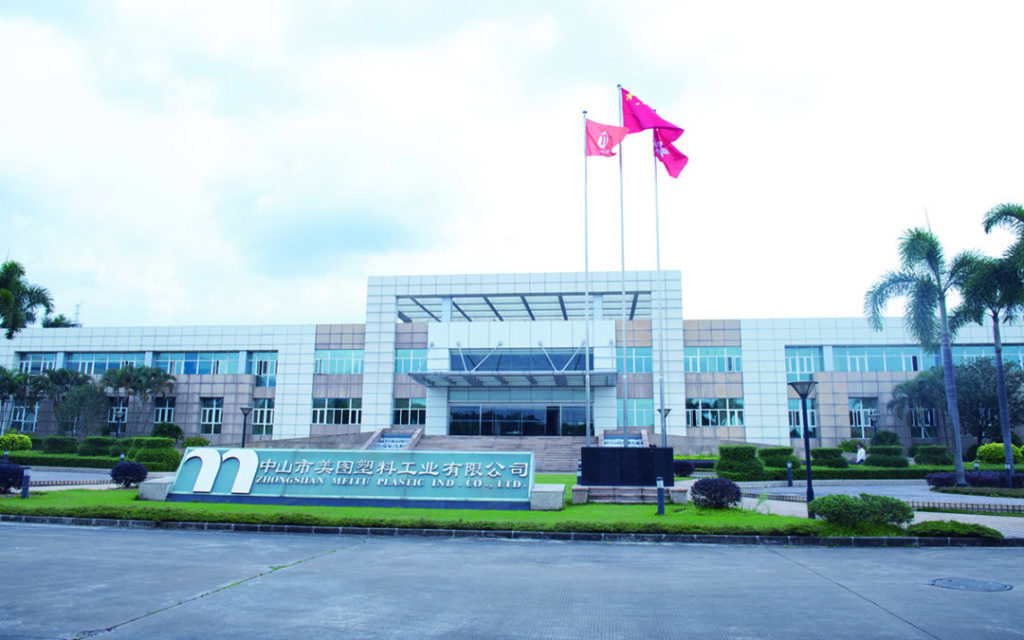 -Visit to Zhongshan Meitu Plastic Ind. Co., Ltd.
Zhongshan Meitu Plastic Ind. Co., Ltd., a wellknown manufacturer of sanitary wares, is located in Nanlang Town, Zhongshan City, Guangdong Province, the hometown of Mr. Sun Yat-sen.
Meitu has developed step by step since its establishment 27 years ago, and has now become the largest enterprise in China's sanitary ware industry. So far, Meitu and Haitian have 27 years of strategic cooperation and deep friendship. At the end of March 2019, we visited Meitu and had a pleasant talk with the General Manager Mr. Huang Haojia.
Haitian's injection molding machines were first introduced in Guangzhou in 1992. Mr. Huang Haojia and Mr. Zhou Wenhui, the current chairmen of the board, looked for a suitable project together. They visited a machinery exhibition in Guangzhou, met Mr. Feng – the distributor of Haitian Plastics Machinery in Guangdong – at the Haitian booth and had a good talk. Mr. Huang and Mr. Zhou bought an HTF350 machine at once, and then they started to select the site and set up a company, which is today's Zhongshan Meitu Plastic
Ind. Co., Ltd.
"There were many local suppliers of injection molding machines in Guangzhou at the time, but after Haitian Plastics Machinery made the long journey from Ningbo to this show, it was a particular sign of strength to me," said Mr. Huang Haojia.
Up until now, all of Meitu's injection molding machines are Haitian and Zhafir brands. From early model HTF to the later series: All-electric Zhafir VE, electrical ZE, Haitian fast-cycling solution MA/F, etc. The company has a full range of Haitian International machines.
"First of all, we have a common interest and an excellent understanding with the experts of Haitian International. Everything is transparent and organized. We continually decide for more machines and we are certainly looking forward in receiving specific application trainings from Haitian in the future."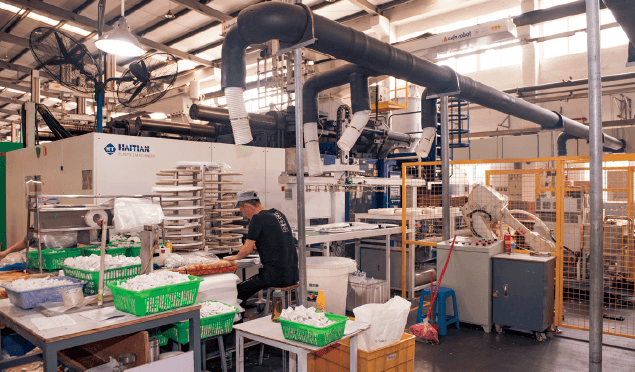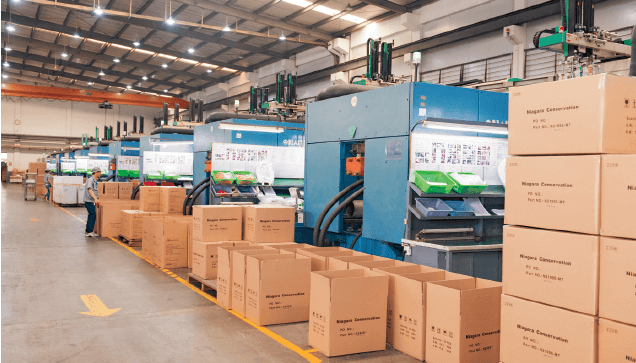 Strong production strength
Meitu has concentrated on on the production of toilet lids, tank fittings, as well as bathroom and kitchen accessories for the past 27 years. At present, it also involves the production of food packaging and rubber products.
With the usage of nearly 150 tons of various plastic materials per day, every 2 seconds there is a set of 2 toilet lids produced. This results in an annual output of more than 20 million sets and 10 million sets of water tanks. Meitu has established cooperative relationships with more than 100 well-known domestic and foreign sanitary ware enterprises and building material retailers like Kohler, American Standard, Geberit, Hengjie Sanitary Ware, and Wrigley.
Strong production strength and excellent reputation have made Meitu the standard drafting unit in China's toilet lids and tank fittings industry, and it has been rated as a high-tech enterprise and a provincial enterprise technology center.
Entering Meitu, the first impression is the clean and well organized factory. All the details show that it is a well-run and thriving enterprise. Mr. Huang Haojia, in his 60s, is a hale and hearty man with firm eyes and good posture, which is just like the energetic enterprise spirit. As a manager, he has strict control and high requirements over production.
In addition to ensuring the high quality of products, Meitu has always strived for innovation. Meitu has a professional research and development team, composed of 35 senior engineers and 60 engineering technicians, and obtains at least 25 patents every year. Meitu devotes more than 3% of its revenues to research & development and innovation every year, and constantly explores new materials and processes to upgrade its products.
"We provide a one-stop solution from initial ideas to final products and all efforts are to help customers receive a better experience."
For the sold products, Meitu provides warranty all the way and conscientiously does its best with the delivery date and quality. "For so many years, we have never lost an existing customer." Meitu obviously has great potential to expand its market. Mr. Huang said "Meitu will enter the intelligent toilet lids field when we are ready."
Meitu has more than 400 Haitian and Zhafir injection molding machines. One of the workshops is very eye-opening. It is like a "museum" of Haitian machines. Most of these machines were produced in the 1980s and 1990s. After 20 to 30 years, they are running well, and still producing reliably. Few Haitian customers keep so many well-maintained old machines, but Meitu is one of them. Mr. Huang Haojia regrets selling the above mentioned HTF 350, which was bought at the fair in 1992, "Really a pity. It was our first machine. A truly memorable thing."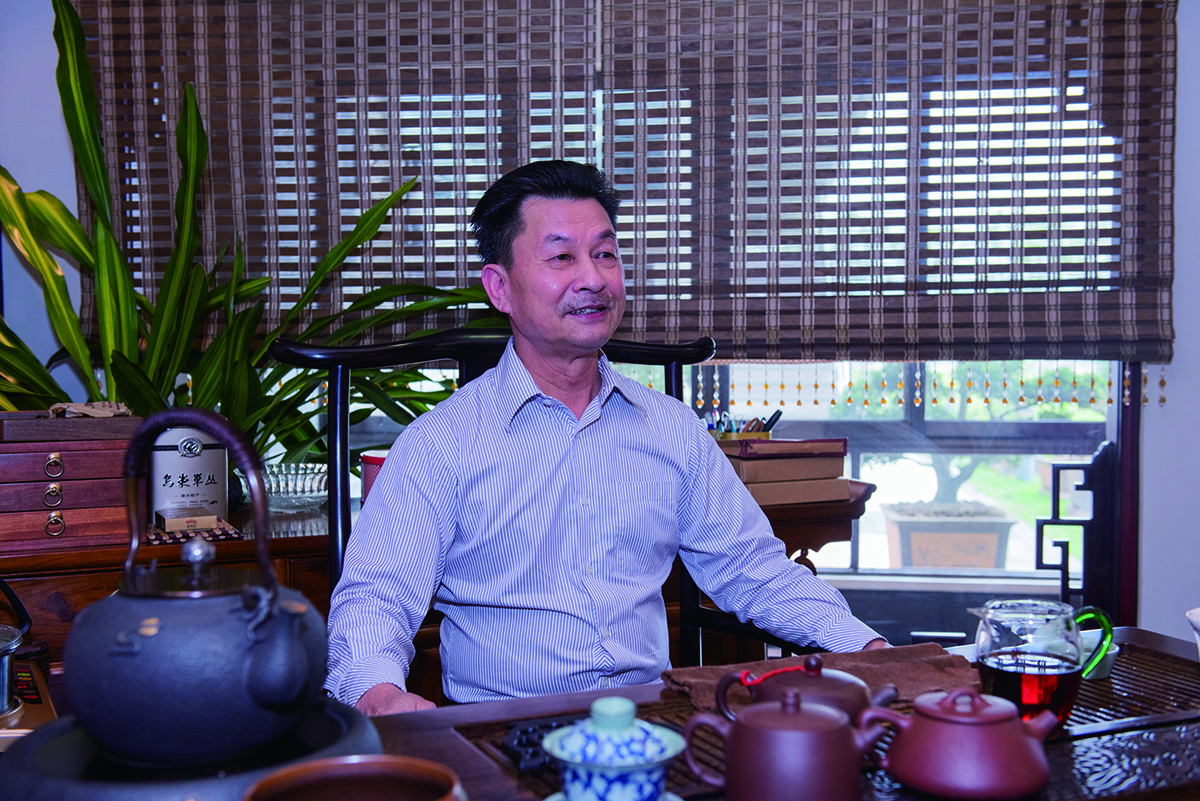 Mr. Huang Haojia, General Manager of Meitu