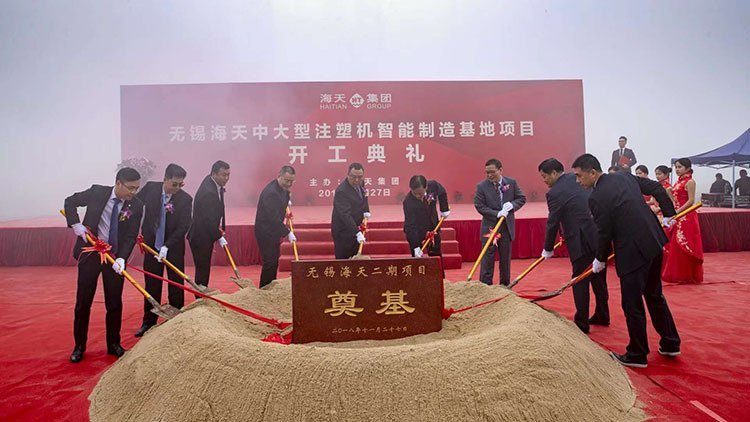 Grand groundbreaking ceremony of Wuxi Haitian's new production base of middle to large injection molding machines was held on the morning of November 27th, 2018. Mr. Zhang Jianfeng, President of Haitian Plastic Machinery Group, Mr. Suen Haojie, General Manager of Wuxi Haitian with nearly 200 staff representatives of Wuxi Haitian, and relevant department heads from government of Wuxi Hi-tech Development Zone witnessed the joyous event together.
Mr. Zhu Xiaohong, Deputy Director of the Administrative Committee of Wuxi Hi-tech Development Zone and Deputy Director of Xinwu District, and Mr. Zhang Jianfeng delivered speeches respectively. After Mr. Zhang Jianfeng announced the launch of the middle-large IMMs production base project, celebration was accompanied by fireworks, and the company leaders and honored guests laid a foundation stone for the project. The opening ceremony was brought to a successful close.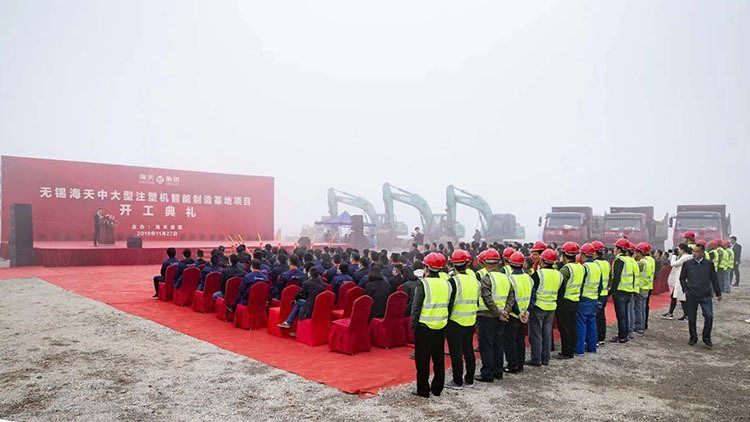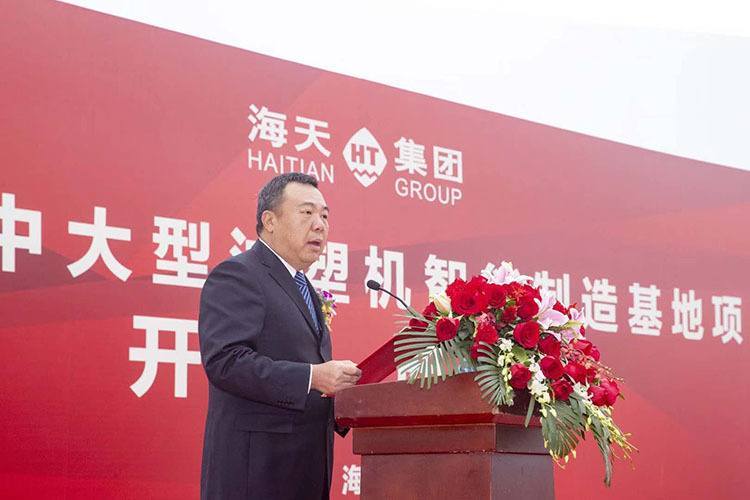 The production base project is one of the important strategic layouts of Haitian for promotion of overall intelligent manufacturing with total investment of RMB 1 billion, covering an area of 185mu and construction area about 85,000m2. It is planned to put into production in 2020, the latest management system for intelligent manufacturing will be introduced for the project, so as to vigorously carry out the intelligent manufacturing mode of "machine replacing labor" and "8+16" production mode for the purpose of automation, flexibility and intelligence of components and parts processing, informatization of manufacturing process, and constant increase of production efficiency and reduction of labor intensity.
Wuxi Haitian is always committed to the research and manufacture of injection molding machines with high quality, high standard and high precision, and development of new science and new technologies in manufacturing industry to realize significant strategic importance and economic benefits. In the future, based on the project and with common efforts of Haitian staff and partners, Wuxi Haitian will strive for transformation and upgrading and grow to be the largest production base of intelligent injection molding machines in China except the Ningbo headquarters.