Reydel Automotive Slovakia s.r.o.
2016-10-05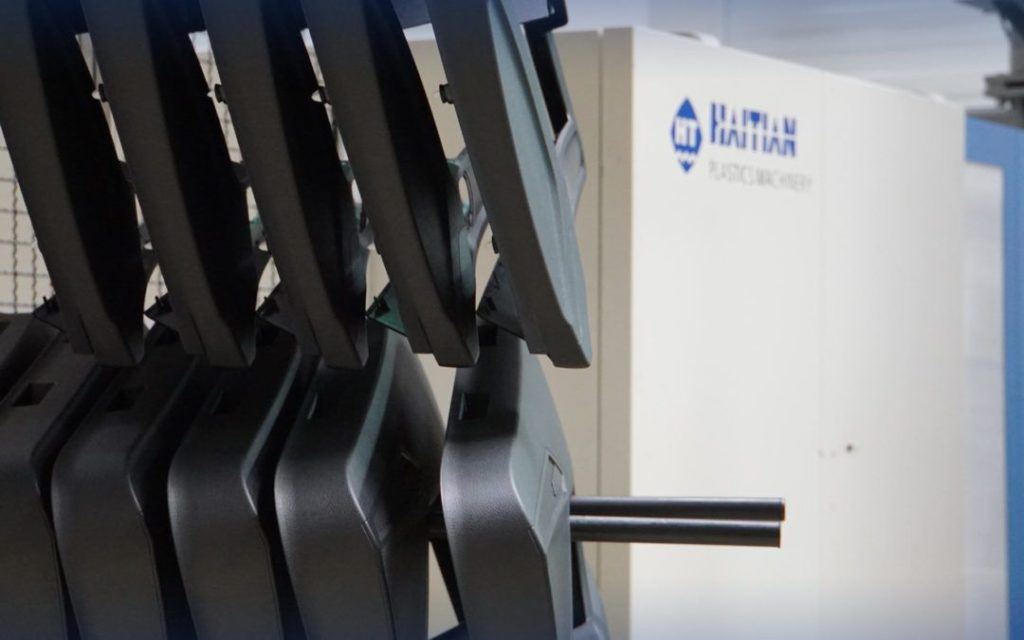 Haitian Jupiter II Series: "THE JUPITER II HAS PROVEN ITS VALUE"
As a T1 supplier, Reydel Automotive Slovakia s.r.o. specializes in high-quality interior components, mainly for cockpits. Their production range extends from instrument panels to ventilation systems and even door trim. We spoke with Milan Veĉera, Manufacturing Manager at Reydel in Nitra, about the importance of flexibility for just-in-time manufacturing.
The Nitra site has 380 employees and production is in 4 shifts, 24/7. The production plant currently comprises 21 injection molding machines of 3,200 to 28,000 kN, including five Haitian Jupiter II Series (from 4,500 to 28,000 kN). Mostly standard materials such as PP, HCPP, PAGF, ABS, and PC/ABS are processed, with a total volume of approx. 4,000 – 4,500 tons per year.
Reydel Automotive Slovakia has been a Haitian customer since April 2014. The headquarters of the Reydel Group is located in France and maintains regional engineering centers in Europe, Asia, and South America, as well as "JIT" (Just In Time) production facilities near OEMs in Western and Eastern Europe, Asia, South America, and Morocco.
Mr. Veĉera, we notice that with processors in the automobile industry in particular, more and more flexibility is required in production so as to be able to react to facelifts and thus to rapid mold exchange, increasingly shorter product life cycles or short-term special projects of OEMs. What is your opinion on this, and what do you expect of your machine suppliers?
"Yes, the pressure from the OEMs on T1 suppliers is enormous. As time goes by, there are more and more product variants and in the case of many OEMs, these have even doubled. This influences personnel requirements and the availability of machines, two factors that require solutions that offer rapid mold change, for example."
How complex is the structure of your production lines?
"Our lines include high-quality standard injection molding, work in progress, and ASSY, i.e. module assembly with final inspection and shipment. Some parts are furnished with "Soft Touch", others with black, high-gloss piano lacquer. Here, the ASSY is the most complex part of the production line. Usually it includes the pre-assembly, e.g. ultrasound welding machines, vibration welding, infra-red welding, laser perforation for the instrument panel with airbag, and also pressing, cutting, and gluing machines in order to trim with textiles or leather."
Your Managing Director, Ing. Jana Bogyóová, said in an interview that the production for Trnava is done "Just in Sequence". What does that mean for you as the Manufacturing Manager?
"Just in Sequence really makes life simple for our customers, but it's a hard job for us. A recent production for the Peugeot 207 explains this very well: On the line at PSA in Trnava, the automobile goes through a station that is connected to us. So we receive a description of the expected door panels – in this case it was black doors with "pointil" textile, electric … – our Commissioning Department enters the inquiry, retrieves the finished injection moldings from the warehouse, enters them into the ASSY manufacturing process, labels them, and places them in their correct location on the rack. From the time of ordering to delivery to the line at PSA took 183 minutes. No matter if it's snowing, if your truck has an accident, or no matter what happens: If you don't deliver on time, if the parts are wrongly located on the rack or are mislabeled, the automobile leaves the line and you pay. That's our business and our risk."
With "Technology to the Point", Haitian International focuses precisely on this balance between flexibility and productivity, offering injection molding machines of high standard, equipped with extensive software, all standard interfaces, and the possibility of adding all kinds of options as hardware. This makes possible maximum flexibility and a wide production range for parts. What experience have you had at Reydel with this "Technology to the Point"?
"We have now been working with the Jupiter II machines for one-and-a-half years without any significant incidents. There have been some minor issues, but these we have solved. From the technical perspective, Jupiter II is on exactly the same level as equivalent machines of the competition. Since that time they have proven their worth and so we have not called into question their functionality in any way. Quite the contrary. All components of Jupiter II enjoy international recognition: Rexroth, Mitutoyo, ABB, etc. Many of the replacement parts are even freely available on the market. We very much welcome Haitian's transparent and open strategy. It gives us great flexibility. And of course we are very familiar with the KEBA control system. All in all, I can say that the machines deliver what we expect them to. If we need more, we just ask."
What are the main applications that run on the Jupiter II machines?
"Mostly door trim on tandem molds, instrument panels, and airbags."
How do you assess the collaboration with Haitian International, and what was the decisive factor for this cooperation?
"It began because we wanted to avoid transporting old machines. The costs for repairs and transport were just as high as the price for new Jupiters with a slightly lower clamping force. I'd had no experience of any kind with Haitian, but anything with a 2-year warranty is better than old machines with oil leaks. So I decided on the Jupiters, and I don't regret it so far. Then, after the first machine, we struck up a good partnership. The Haitian Team reacts immediately, e.g. when there are changes in systems, machine adaptations, etc. This is not customary in Europe. The operating system is open at all levels, so we are the absolute owners and can program whatever we want. Of course, this kind of freedom brings with it a certain degree of risk. You have comprehensive access but you are also responsible for the result. In my opinion, it's a good strategy if you know what you're doing."
What drive concepts do you prefer?
"We are locked into servo-hydraulic drives. They permit a cost savings of approximately 60% in terms of electricity in comparison with the conventional drives. And the two-platen design saves us space in production. That's what we call "Technology to the Point"."