Flying Experts – like a rock in the surf
2022-03-01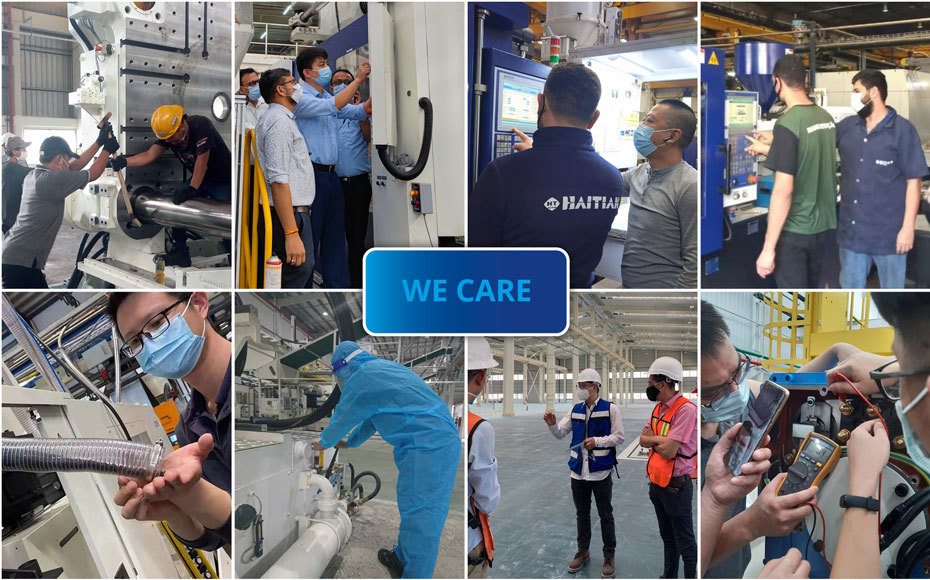 Service & Support
Flying Experts – like a rock in the surf
Even a global disaster like the Corona pandemic cannot stop the team spirit of Haitian service engineers. At home and across all continents: worldwide customer service works. Against all odds and even under very difficult conditions.
From the very first moment, the idea of service and the willingness to help have been of special importance to Haitian International. Excellence and personal commitment are paramount in customer support, inseparable for our account managers and service engineers.
Since the first export machine was installed and put into operation in Greece in 1989, they have also embodied this claim beyond the country's borders – as Flying Experts. Corona has not changed anything in this respect. In 2021, the 10,000th export machine was disembarked overseas, in the midst of the pandemic.
Despite the many imponderables and strict protective measures, the entire service team manages to keep the frequency of service calls at a high level. "Problems? We call it challenges," is how the attitude of the service engineers could be summed up. An attitude with which they continuously contribute to growth in the export markets and are a reliable factor in all service and support issues.
We say "Thank you!" to all the Flying Experts at Haitian International.
Haitian Vietnam – consistent and flexible
Corona protection measures in Vietnam are extensive and strict. Several travel restrictions have been imposed on individuals transiting Vietnamese provinces, up to and including quarantine. As a result, the likelihood of local service technicians being affected by the pandemic has unfortunately increased.
"We have tried to improve the situation with the travel restrictions and have taken to renting apartments for our service technicians, close to our customers' workshops. This way, they don't have to travel as much through the provinces and can be on site faster. This has effectively increased our cooperation and service quality; we get a lot of positive feedback."
Of course, the service technicians take no risks in their work and wear masks, gloves and protective clothing, even outdoors. In southern Vietnam, too, all engineers strictly adhered to the measures – despite the hot climate.
Haitian International Germany – joining forces
In 2021, seven colleagues from China were temporarily working at the Haitian International Germany site, in the service team and in other departments. Colleagues who are actually based at the headquarters in Ningbo China. Shortly before Christmas, Sun Yiming, CEO of Germany, received bitter news. "I gathered my team to inform them that the flight home was canceled because of Corona. Of course, the disappointment was huge because 2021 was extremely busy."
Haitian Germany again posted an increase in shipments for 2021 compared to the previous year. But this also means more installations and service team deployments. "Therefore, a big thank you goes out to everyone! Especially to the Chinese colleagues who showed a lot of patience over the Christmas period in Germany. But the entire service team in Germany also deserves our thanks and respect. Everyone was very committed and supported each other."
Haitian Turkey – all levers in motion 
Haitian Turkey's employees place particular emphasis on team cohesion and working efficiently, especially during the pandemic. Even under high security measures. The sales and service technicians even insist on working with offline target customers as usual.
"On June 11 last year, we received an emergency call from a major customer. He had an urgent job and needed a service technician on site because they were having problems with an MA18500II. However, with the pandemic measures in place, the customer demanded test results from our engineers. Detailed test results!" To get the production system back up and running as quickly as possible, Haitian Turkey quickly pulled out all the stops. In parallel, spare parts were prepared, service engineers were tested in local hospitals, a distribution route was planned, and many fine details were coordinated. With success: in less than two hours, the problems were solved on site. "We were highly praised for the fact that our technicians restored the machines so quickly. Even though they had only arrived at 11 p.m.!"
Thanks to the efforts of all employees and the support of headquarters, Haitian Turkey is performing remarkably well even under pandemic conditions, as confirmed not least by continuous sales increases.
Haitian Mexico – there is always a way
The situation in Mexico was very serious at times. Strict restrictions are therefore being followed at the new Mexico City site to reduce the security risk. Despite the challenges caused by the pandemic, the economy is expected to recover.
"True service knows no end. It never stops, even in a pandemic," Even for at a recent mission when our technical support was needed to deliver 39 aircraft at a stretch. "Flying? Impossible. But should that stop us?" The service technicians set off at 4 a.m., traversing five Mexican states and ultimately arriving at the customer's site after about 1,000 km. A true odyssey in pandemic conditions, yet the team was able to complete the job with flying colors.
Haitian Brazil – with the courage to take risks
According to government statistics, Brazil is one of the countries whose population is particularly affected by Corona. Accordingly, Haitian Brazil has put together a strict package of measures to provide its employees with the best possible protection. In addition, Haitian Brazil made donations to support local schools that were experiencing economic hardship as a result of the pandemic. "For us, it was a matter of course to help them and show respect and appreciation to our region in this way."
As a result of its intensive customer orientation, Haitian Brazil has long since arrived in the Brazilian market, has been able to establish itself over many years and is also recognized in society. As a result, the number of service calls has also risen sharply. "We do everything we can to ensure our customers can maintain their productivity, even in serious situations." Even if this should require business trips lasting more than a week to guarantee effective on-site service.
"On one occasion, two service technicians headed to the airport to visit a company in Manaus that was severely affected by Corona infections. They were the only passengers on that flight; no one else wanted to take the risk at that time."
Haitian Thailand – faster than the competition
In Thailand, Corona has almost brought the industry to a standstill. All the more reason for Haitian Thailand to support its customers with a particularly fast and efficient service. Even when the crisis comes to a more dramatic head due to extreme weather conditions, as it did in September 2021.
When the low-lying industrial area of Beilanfu was hit by a catastrophic rainstorm with days of heavy rain, an emergency call arrived from a customer that water had entered 16 machines. Immediately, service technicians set out to quickly assist on site, carefully draining motors and electrical components and resolving machine issues resulting from the water ingress. "The customer was very grateful but also deeply impressed. Because by the time the competitor's service technicians started to repair their first machine, our machines were all intact again." Shortly thereafter, the customer ordered four more machines from Haitian Thailand.
Haitian India – under all circumstances
Although India was hit hard by the pandemic, Haitian India never gave up doing everything they could to ensure normal operations. In 2021, they continued to achieve the maximum possible productivity – thanks in part to complete in-house machining of castings – so that annual sales in 2021 increased despite all the difficult conditions. Flying Engineers from headquarters provided valuable support.
At the end of August 2021, two service engineers landed in India and, after quarantine, immediately went to the province of Pune to solve the machine problems of an important customer. Due to the long distance, they had to travel many hours a day, often improvising and facing many hardships, but in the end they were able to solve the problems successfully. "Good customer service is ultimately about how to best succeed in meeting customer needs day after day."
Since then, to avoid the risk of infection on the plane, the service technicians often travel 10 hours further to support customers on site. As the pandemic continues to this day, this has become a daily routine for them.
Haitian Indonesia – overcoming distances online
Indonesia is one of the countries in Southeast Asia most affected by the pandemic; many customers and employees were infected. So it happened that two Chinese colleagues helped out in Indonesia for more than 100 days. They insisted on visiting customers even during the pandemic in order to strengthen and intensify the business as well as personal relationships between Haitian and its customers. They received unanimous praise from both Indonesian employees and customers in Indonesia for their persistent efforts.
In situations where they could not visit customers in person on site, they offered online help to resolve urgent problems. More than 10 project service groups were involved in the process, which ranged from spare parts preparation to logistics, on-site installation, commissioning and troubleshooting.
Haitian Japan – successful relocation
Due to the increasing spread of the Corona virus, the Japanese government decided to close the country's borders in 2021. Since Chinese service technicians could not enter Japan, it was agreed to hold video conferences to ensure communication and information exchange. In this way, it was possible to relieve the local staff in Japan of the enormous pressure brought about by the pandemic. It was also possible to monitor all developments in real time and plan appropriate measures in good time. Once the borders were open again, the engineers were able to help ensure the efficient operation of Haitian machines throughout the year, as well as support new installations and startups in the Japanese market.
Haitian Japan: "Thanks to the efforts of all employees and remote support from headquarters, Haitian Japan was able to do a good job even during the pandemic."